Home Clinics
A Home Clinic is a patient-centred primary care clinic that serves as a patient's home base within the health-care system.
Home Clinics are primary care clinics that provide patients with timely access to care, coordinate their health care within the health-care system and manage their health-care records. Having a home base helps support comprehensive and continuous care throughout a patients' life.
Building on the established foundation of Home Clinics and patient enrolment, Manitoba is introducing new information sharing to support patient care in alignment with the Provincial Clinical and Preventive Services Plan. This will facilitate collaboration and interprofessional care planning between primary care and the overall health system, in support of integrated local networks of providers coordinating care in an efficient and sustainable manner. Click here to see the diagram.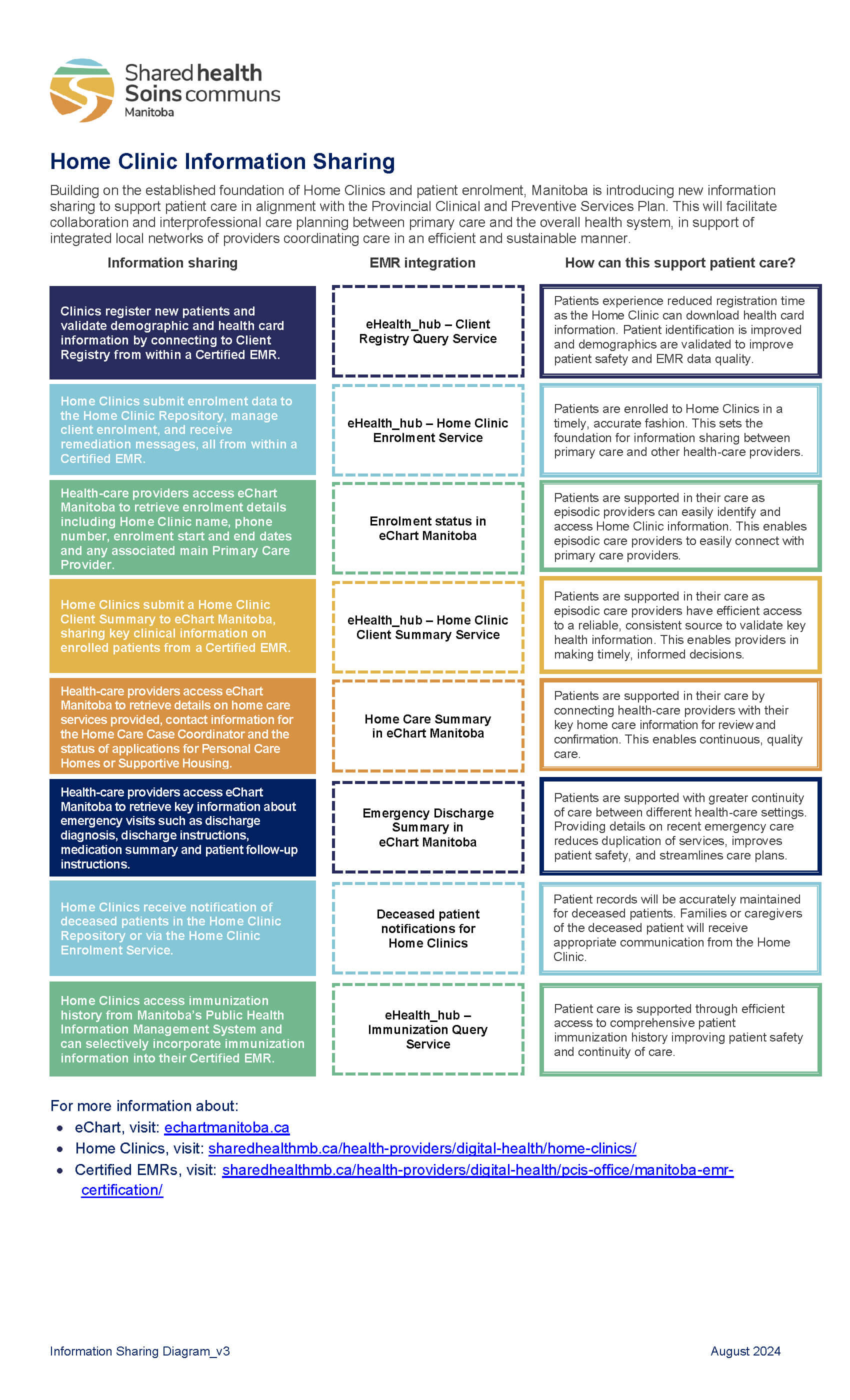 Manitoba Health, Seniors and Active Living recognizes that primary care is a foundational piece of the health-care system and that supporting primary care providers to deliver comprehensive primary care will strengthen the system and lead to better patient outcomes. While many clinics in Manitoba already provide these services, becoming a Home Clinic will provide the necessary framework for primary care providers to receive additional supports.
Benefits of becoming a Home Clinic
Becoming a Home Clinic will give primary care providers access to resources and information to coordinate patient care more efficiently and effectively while recognizing the added responsibility as a patient's home base within the health-care system. Benefits include:
Access to valuable reports that will provide insight into your enrolled patient population, completeness of patient demographic and clinical data, as well as comparative data to show how your clinic is performing in relation to other Home Clinics

Home Clinic Portal Reports

Eligibility for fee-for-service family physicians associated with a Home Clinic to claim the Comprehensive Care Management (CCM) tariffs for their qualifying, enrolled patients as of April 1, 2017.
Opportunities to expand clinical information sharing and interoperability with Certified EMR Products which will support collaboration and interprofessional care planning between primary care and other parts of the health system for improved patient care.
Access to deceased patient notifications for enrolled patients, which supports clinics updating their EMR in a timely fashion and supports patient communications.
Over time, interested Home Clinics will have opportunities and be supported in their efforts to form or integrate with a My Health Team. Becoming a member of a My Health Team brings considerable value to a Home Clinic. It enables access to the My Health Team resources, supports and services for your Home Clinic team and your enrolled patients. It also enables clinical resources to focus on issues requiring their specific expertise. To learn more about My Health Teams, visit Manitoba Health's Primary Care website.
The heart of primary care is the long term and trusted relationship that primary health-care providers have with their patients. Primary care providers agree to act as a patient's most responsible provider and:
provide a high standard of patient-centred care, focused on the patient's needs
provide continuous, comprehensive care thereby ensuring the best possible health outcomes
advocate for and coordinate care to meet patient's needs, beyond that available within the Home Clinic
enable sharing of important health information with other care providers the patient sees
Find out more