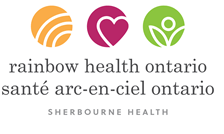 RHO 2022 Symposium: LGBT2SQ Health in Focus
The event will consist of three 90-minute long panels with presentations as well as a dedicated Q&A session.
Click a session title for full panelist and presentation information:
This event is undergoing review for CME Mainpro+ accreditation. We will report back soon.
Interpretation in French and ASL will be available.
Questions? Email info@rainbowhealthontario.ca
For registration information click here.
$10.00 fee