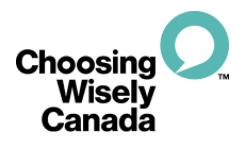 Reducing Overuse of Tests & Treatments: Has Canada Made Progress?
On November 10, Choosing Wisely Canada and the Canadian Institute for Health Information (CIHI) will release a joint report looking at trends and variations of 12 overused tests and treatments. Has Canada made progress? And what work still needs to be done to drive improvements across the country?
In November's Choosing Wisely Talks, we'll discuss findings from the report, successful examples of quality improvement efforts, and the next steps in tackling this longstanding problem in Canadian health care.
Speakers:
Dr. Wendy Levinson, Chair of Choosing Wisely Canada
Tracy Johnson, Director, Health System Analytics, CIHI
For registration information click here.