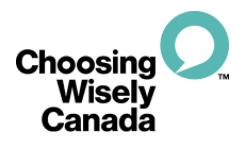 Pharmacists' Expanded Scope — and What it Means for Appropriate Prescribing
In several provinces, the scope of pharmacist prescribing has expanded, enabling them to assess and prescribe treatments for common syndromes. With other provinces and territories expected to adopt similar approaches, how do we support pharmacists, physicians, and other healthcare professionals in promoting resource stewardship and appropriate prescribing practices?
On March 22 at 12 p.m. ET, Choosing Wisely Talks will discuss the widened scope of practice for pharmacists. Experts will discuss recent changes and future thinking around interprofessional collaboration in patient care.
Speakers:
Danielle Paes, Chief Pharmacist Officer, Canadian Pharmacists Association (CPhA)
Shelita Dattani, Vice President, Neighbourhood Pharmacy Association of Canada
Discussant: 
Janet Reynolds, Family Physician, Choosing Wisely Canada Primary Care Co-Lead
For registration information click here.