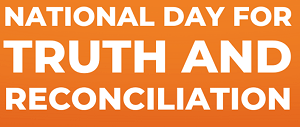 NCTR Lunch and Learn – Indigenous peoples and the history of residential schools
The 2023 Lunch and Learn sessions are sold out. You can watch the session via the YouTube link once they've been populated. We are unable to take questions from those watching from YouTube.
This year, the NCTR will offer a series of FREE virtual lunch and learn sessions throughout Truth and Reconciliation Week 2023 to facilitate learning for Canadians on topics related to Truth and Reconciliation.
These daily lunch sessions (50min) will feature a range of speakers and will provide audience members with the opportunity to ask questions and engage in further conversations.
Topics include:
Day 1, Mon., Sep 25: Indigenous peoples and the History of Residential Schools
Day 2, Tue., Sep 26: Unconscious bias and debunking stereotypes
Day 3, Wed., Sep 27: Intergenerational impacts and ongoing systemic discrimination
Day 4, Thur., Sep 28: Indigenous peoples' rights and the UN Declaration on the Rights of Indigenous Peoples
Day 5, Fri., Sep 29: Taking action toward Reconciliation
Each session will begin at the same time each day:
PDT: 10:30AM to 11:20AM (Vancouver)
MDT: 11:30AM to 12:20PM (Edmonton)
CST: 11:30AM to 12:20PM (Regina)
CDT: 12:30PM to 1:20PM (Winnipeg)
EDT: 1:30PM to 2:20PM (Toronto)
ADT: 2:30PM to 3:20PM (Halifax)
NDT: 3:00PM to 3:50PM (Newfoundland)
For registration information click here.