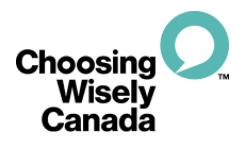 Inappropriate Use of Antipsychotics in Long-Term Care
A recent report with the Canadian Institute for Health Information (CIHI) found potentially inappropriate antipsychotic use in long-term care (LTC) dropped by 26% between 2014-15 & 2019-20. However, use of these powerful drugs increased in several provinces during the COVID-19 pandemic. What's behind this rise and how might we tackle this complex problem in LTC settings?
These questions and more will be discussed on Choosing Wisely Talks.
Speakers:
Andrea Moser, Family Physician, Baycrest Geriatric Health Sciences
Sid Feldman, Family Physician, North York Family Health Team
Nathan Stall, Geriatrician, Sinai Health
Tracy Johnson, Director, Health System Analytics, CIHI
For registration information click here.