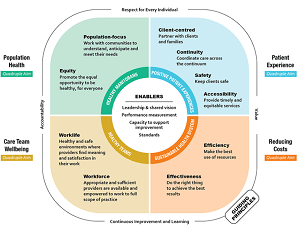 Health Equity: What is it and why is it important?
To view the presentation recording click here.
The Manitoba Quality and Learning Framework describes how Health Equity means that all people can reach their full health potential and should not be disadvantaged from attaining it or accessing health services because of their race, ethnicity, religion, gender, age, social class, socio-economic status or other socially determined circumstance.
But what does that really mean? And how can we leverage the concept in Manitoba to improve our health system? This one-hour introductory session will describe how health equity concepts have been applied in Manitoba and explore future applications and opportunities. This event is part of Provincial Health Equity Week.
Presenters: Valerie Williams, Director, Equity, Diversity & Inclusion, Rady Faculty of Health Sciences and Hannah Moffatt, Provincial Lead for Learning and Sharing, Health Services Integration and Quality.