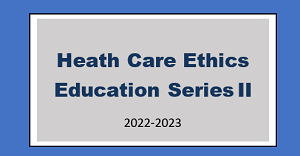 Health Care Ethics Education Series II: Disability Ethics
Health Care Ethics Education Series: Disability Ethics
The Health Care Ethics Service is pleased to offer a second virtual ethics education series for health care professionals. The purpose of Series II is to provide participants with further ethics education on topics that are not covered in Series I. Participants are welcome to participate in both series simultaneously if they have not participated in the first series or would like a refresher on topics previously taught. Series II will be taught in two formats, there will be five lecture sessions and five case debriefing sessions in order that participants learn how to apply ethics principles to clinical scenarios.
The topics, times and dates of Series II are listed below and will be presented by Katarina Lee-Ameduri, Clinical Ethicist, St. Boniface Hospital and the Réseau Compassion Network and Assistant Professor, Department of Family Medicine, University of Manitoba.
You are invited to attend all or select a session(s) of your choosing. Registration is required.
Disability Ethics: 1500-1600, April 6, 2023
Please email Lydia Shawarsky at lshawarsky@sbgh.mb.ca to register and receive Zoom information details.