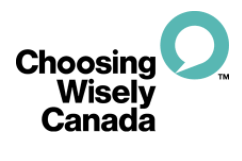 De/Implement: CWC Implementation Research Webinar Series | Choosing Wisely Post Pandemic – How COVID-19 Opened Our Eyes to Low-Value Care
The COVID-19 pandemic has been a major disruption to the functioning of Canada's health care systems. While health care resources and clinicians have been stretched thin by pandemic-related demands, it has also illustrated areas of low-value care very clearly.
On November 10 at 12 p.m. ET, Dr. Adina Weinerman, Internal Medicine Physician and Physician Lead of the Choosing Wisely Project Team at Sunnybrook Health Sciences Centre, will present some examples of low-value care that have been identified at Sunnybrook during the pandemic. The webinar will feature an interactive and engaging discussion about strategies to leverage learnings from the COVID-19 pandemic to avoid low-value care and optimize value in post-pandemic health care systems.
For registration information click here.
Free event.