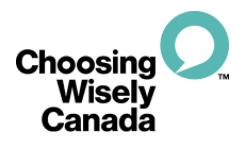 Choosing Wisely Talks: Addressing Surgical Backlogs in Canada
Join Choosing Wisely Talks on April 19 to discuss the current state of surgical backlogs in Canada. Experts will discuss the role of shared decision-making, system changes, and how we can work together to improve access to timely and high-quality surgical care.
To register click here.