Becoming a Home Clinic
Primary Care is the Foundation of the Health-Care System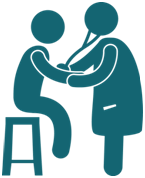 Shared Health recognizes that primary care is a foundational piece of the health-care system and that supporting primary care providers to deliver comprehensive primary care will strengthen the system and lead to better patient outcomes. The Home Clinic model is being introduced to help support both primary-care providers and their patients.
A Home Clinic is a patient centered primary care clinic that serves as a patient's home base within the health-care system. Home Clinics are primary care clinics that provide patients with timely access to care, coordinate their health care within the health-care system, and manage their health-care records. Having a home base helps support comprehensive and continuous care throughout a patient's life.
Home Clinics enhance patient care by giving you, their primary health-care provider, access to all resources and information to coordinate patient care more efficiently and effectively while recognizing the added responsibility that you are taking on as their key provider.
Home Clinic registration is now open and clinics can register at any time. To find out more about Home Clinics and the supports to providers, please visit the Digital Health website.
Benefits of Becoming a Home Clinic
access to valuable reports that will provide insight into your enrolled patient population, completeness of patient demographic and clinical data, as well as comparative data to show how your clinic is performing in relation to other Home Clinics;
fee-for-service Family Physicians associated with a Home Clinic will be eligible to claim the Comprehensive Care Management Tariffs for their qualifying, enrolled patients as of April 1, 2017;
in the future, Home Clinics using an EMR certified by Manitoba against information sharing specifications, will be able to share essential clinical information about their enrolled patients with episodic care providers and, in return, receive information regarding episodic care provided to enrolled patients. This continuity of information is expected to support will be valuable to care providers, and valued by enrolled patients.
Quick Links