Home Clinics & My Health Teams
Primary care in Manitoba has made significant progress in recent years. Manitoba is building on the many successful initiatives and efforts, and moving forward. The Province of Manitoba is supporting Manitobans and primary care practices and health regions in a number of ways, including the development or enhancement of Home Clinics and My Health Teams.
Home Clinics and My Health Teams work together to provide a health care home base and a health care neighbourhood/network for Manitobans. Together with other initiatives the Province has been developing, Home Clinics and My Health Teams help to ensure reliable access, coordination and continuity of care for patients.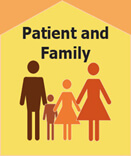 Patient
At the heart of the network is the patient or healthcare user. The emphasis of primary care is patient-centered care.
The IOM (Institute of Medicine) defines patient-centred care as: "Providing care that is respectful of, and responsive to, individual patient preferences, needs and values, and ensuring that patient values guide all clinical decisions."
Home Clinics
Home Clinics are primary care clinics that act as your home base within the health care system. Home Clinics provide patients with timely access to care, coordinate their health care within the health care system, and manage their health care records. Having a home base helps support comprehensive and continuous care throughout a patient's life. Within each Home Clinic is your main Primary Care Provider – your Family Physician or Nurse Practitioner who is most responsible for your health care.
Over the coming months, Manitobans are being asked to confirm who their Home Clinic and main Primary Care Provider is. Confirming who you choose to be your Home Clinic and main Primary Care Provider will assist in ensuring you have consistent and reliable care and also help to direct your health-care information within the system more effectively. It will not prevent you from visiting other Primary Care Providers (for example: a walk-in clinic), but it will help ensure that your main Primary Care Provider is aware of ongoing conditions, medications and treatment and can better manage your overall health needs. The person designated as your main Primary Care Provider is your choice. Building a relationship with one main provider will give you the best possible health outcomes.
Your main Primary Care Provider will help you stay healthy by:
conducting your regular physical exams;
caring for most of your common illnesses;
knowing and monitoring some of your health risks;
making referrals to other health-care providers as needed;
receiving and managing information about your interactions/consultations within the system; and
acting as a home base for you and the health-care system.
My Health Teams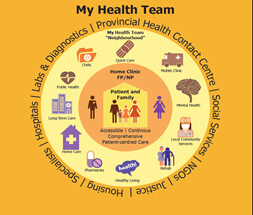 My Health Teams are teams of care providers (whether located in the same offices or virtually connected online) that work with you to make sure you get the care you need, when you need it. They are the health care neighbourhoods that provide care.
My Health Teams are built around strong partnerships. Teams of care providers work together to plan and deliver services for a geographic area or specific community or population.
My Health Teams are less about physical space, and more about leveraging and building on existing services and enhancing them so that consumers are offered more coordinated and comprehensive care.
Most of all, My Health Teams are about providing excellent service to Manitobans that meets community needs. Once well-established, all My Health Teams must provide a common set of services to their communities. Click here for information on the key elements of My Health Teams.
My Health Teams Goals
Inter-professional My Health Teams will develop services to ensure people are more informed and involved in planning their own care. Other goals of My Health Teams include:
Improving access to primary care for all Manitobans.
Demonstrating quality and safety in Primary Care
Increasing the focus on the patient and patient-centred primary care.
Connecting care providers within and across geographic boundaries to provide seamless transitions in care.
Enhancing efficiency in primary care and supporting sustainability of the health system.
Services in My Health Teams will emphasize prevention and coordinate disease management, including the identification and reduction of chronic disease risk factors such as physical inactivity and tobacco use.
Service Standards
improved access to care (timely, and without barriers, etc.)
outreach to more vulnerable or underserviced populations
options to get care outside office hours
access to a regular primary provider who's part of a team of other health care providers (such as dietitian, nurse practitioner, midwife, occupational therapist)
a greater focus on promoting good health and preventing disease
access to a person's health information by health providers involved in their care
reliable and timely connections between health and other sectors in coordinating an individual's care
better communications on how to find resources, and how to access needed information within a large, institutional health care system
involvement by individuals in their own care and health care decisions, including more culturally sensitive care
"any door is the right door" approach to care for those who might not look for or know where to go for service including our more underserviced populations
receiving more reliable and consistent primary care
Click here for a list of frequently asked questions by the public about My Health Teams.