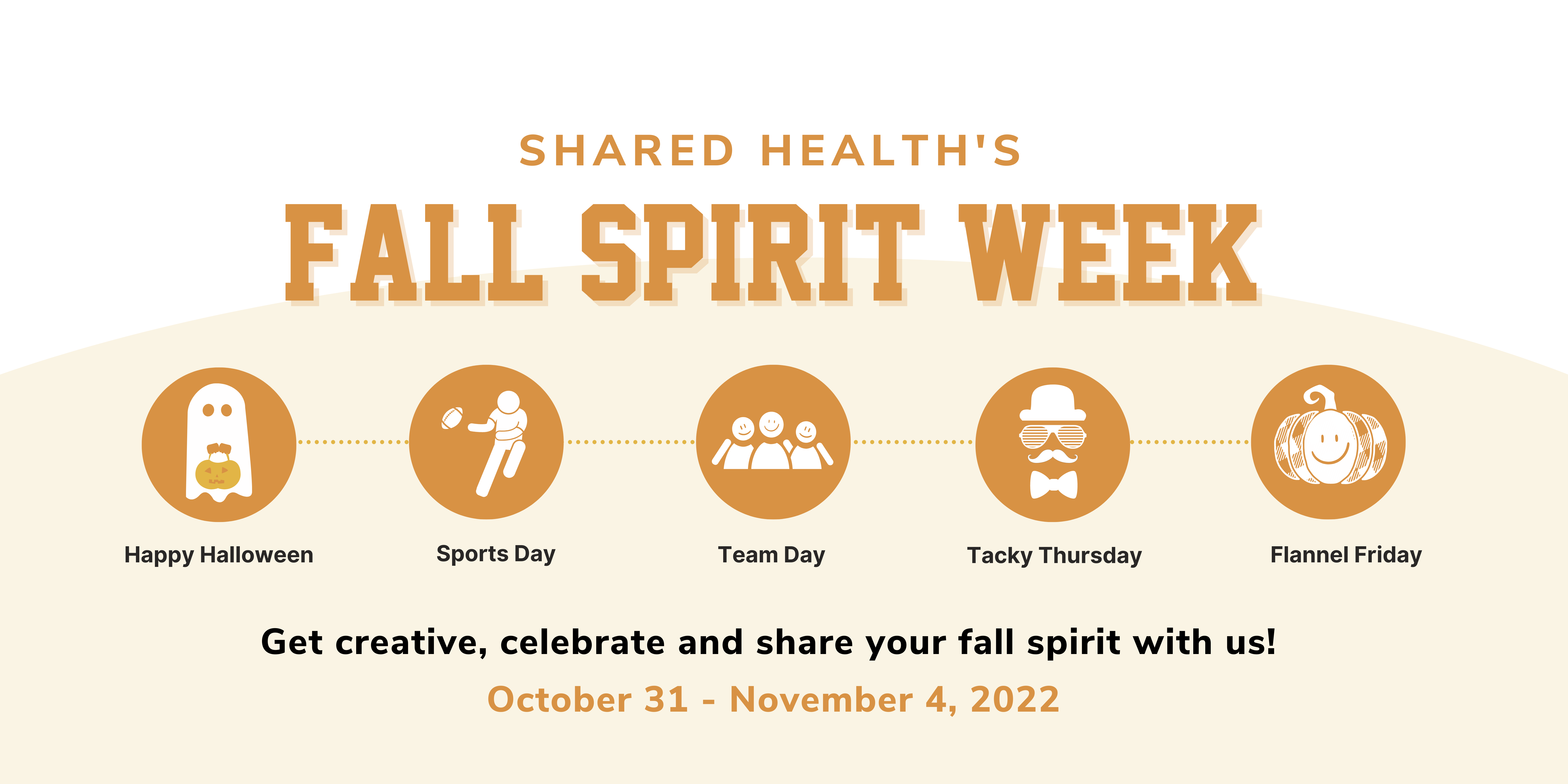 Thank you to everyone who participated in Shared Health's Fall Spirit Week! Contests are now closed. Please join us in congratulating our winners:
Photo (and video!) contest: Health Records Evening staff (WRHA)
Explore Manitoba Quiz: Christine at Cadham Provincial Laboratory
*New* Most Creative Award: Call Centre and Test Distribution (CCTD) Team (SH)
Fall is a time of transition; the leaves have changed colour and we know cooler temperatures are on their way. No matter the season, you and your teams remain committed to one another and to those who rely on your skills and compassion.

Between October 31 to November 4, we hope you will take a moment to celebrate your team spirit during Shared Health's Fall Spirit Week.
Read more
Each day will offer themed events, decoration challenges and team-building activities. Whether you work in a direct care area or are participating remotely, we encourage you to take the opportunity to share a light moment with the colleagues and co-workers who are so important to each of us.
Prizes will be awarded to some of the best dressed teams, decorated workspaces and through a spirit week challenge quiz!
Please ensure that any attire or décor complies with Infection Prevention and Control and Personal Protective Equipment requirements.
We look forward to seeing your fall spirit!
– Adam Topp, Chief Executive Officer, Shared Health
Two ways to WIN prizes!
*Contest now closed. Thank you to everyone who participated!
Show us your Fall Spirit Contest
Share your team spirit with us! Send in photos (or video!) of you dressed up, your decorated department, or participating in one of our many activities!
Enter our contest by tagging us on social media: Twitter, Instagram and Facebook or send your entries to community@sharedhealthmb.ca, and you could win a $50 gift card for food services in your region!
Note: submissions may be featured digitally on Shared Health channels unless otherwise specified. Some of our Fall Spirit Week entries are featured below!
Manitoba is filled with many spectacular landscapes rooted in deep cultural history. How well do you know our province? Rediscover Manitoba with this quiz and you could win!
Shared Health will award a $50 gift card to one lucky winner who fills out the quiz correctly: Explore Manitoba Quiz.
Winner must be a current health-care worker at a Manitoba facility, program or service. Contest closes Saturday, November 5, 2022 at 11:59 p.m. CST
Reminder:
Throughout Spirit Week all staff must still follow Infection Prevention and Control, Personal Protective Equipment, Uniform (where applicable), Fire Codes, Physical Distancing requirements and The Personal Health Information Act (PHIA). It should be noted that although we encouraging you to dress up and decorate this does not change the protocols within your area.
A reminder, all staff must comply with PHIA protocols when taking photos. Shared Health's policy prohibits staff from taking photos of patients, PHI, or photos that identify any locations, facilities, operations, products, and posting them online.
Please remember to adhere the following IP&C protocols:
Proper hand hygiene
Appropriate PPE worn at all times, except when eating and drinking
Respect maximum occupancy and physical distancing requirements
Costumes must not interfere with patient care or uniform requirements
Communal foods/eating must adhere to all site/SDO requirements
To socialize safely and decorate within IP&C guidelines, we will ask staff to review these documents: